Embrace the Elegance of Simplicity
The designer upholds the notion of simple, classic designs. These minimalist pieces can be worn as standalone statements or complemented with your cherished adornments for a unique touch.
Vision Statement
At the forefront of everything we aspire for QUALITY and SUSTAINABILITY. It is at the core of all we represent to be and a constant topic of conversation with our supply chain and of course, you - our valued community. The climate crisis is real and the impacts of fashion undeniable, and while this frightens us, it drives us harder towards the goal of becoming 100% sustainable. Our materials are 100% light weighted cotton, all buttons are made of recycled coconut shells and the straps adjustments are made of metal.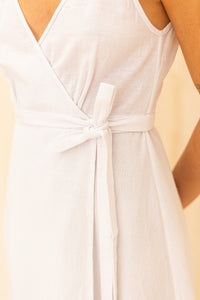 Fine Quality Fabrics
Crafted from premium cotton, this flowing dress boasts sophisticated design elements, including a graceful design beneath the bust and a side slit for tying the waistband. The straps are adjustable and use metal sliding clasps instead of plastic. 
Maternity Friendly
Navigating pregnancy is already a journey, let alone finding suitable clothing. This dress offers a wrap style that flatters your growing belly and celebrates the beauty of this special time.
Motherhood
Becoming a mother presents numerous challenges, but dressing shouldn't be one of them. As a breastfeeding mother, you can easily open one side of the dress for effortless nursing, allowing you to focus on what really matters - your little one.